Post by Deleted on Aug 26, 2020 0:57:00 GMT -6
Wrestler's Name
Atara Eirene Themis
Ring Names/Nicknames
Aphrodite Incarnate, Atty, AT, Step Mum
Gender: Female
Born: November 16, 1995
Hometown
Athens, Greece
Height: 5'10" (177.8cm) Weight: 138 lbs (62.6kg)
Alignment: Face/Neutral
Pic Base
Emily Didonato
Color Code
Hot Pink - ff69bd
Entrance Theme
Blue Monday - Sebastion Brohm
Custom Ring Entrance
Hello Doves appears briefly on screens over the arena in pink accompanied by Atara's voice saying the same over the arena PA right before her theme hits the speakers. The crowd pops like crazy. Arena lights start to pulse in time with the music and multiple vertical streams of pyro erupt across the front of stage. Strutting with purpose, Atara emerges from the back taking spot at centerstage right before the ramp. Posing for the camera, a wink and kiss is given to the viewers at home.
Grunge walking to the ringsteps, Atara stops at the top and posturesconce more for the fans before going to the middle of the apron where she blows yet another kiss to the camera before entering the ring.
Wrestling Style/Resemblance - Essentially Kurt Angle,
but prettier.
Trademark Maneuver(s)
Judgement of Paris
Overhead Belly to Belly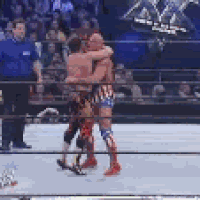 Pending Opponent Size
Powerslam
Pending Opponent Size
Gannosuke Clutch
Set Up to Finisher
N/A
Finisher/s

The Titanomachy
From A Dove



GCWA Record/Achievements

2 - 0


Contact Information
Twitter:

Atara Themis


Discord: Atara Themis#0103

Biography


Atara Eirene Themis is the daughter of Eros Themis, a former neo-pankration champion, and Irish born Ailbe Themis, a former prima ballerina of the Greek National Opera. Performing and competition runs deep in Atara's blood and both have played a pivotal role in her life. She's traveled the world since her youth.

At age 8 her mother, Ailbe, was tragically killed in a car crash. Her father being the prominent influence in her raising trained Atara in neo pankration, ancient Greek wrestling, and mentored her during her high school days as an amateur wrestler. It was shortly before high school Atara moved to New York that she was introduced professional wrestling.

Enamored with the larger than life characters and the ballet like performances, Atara moved to Japan after graduation to train with Despina Montaga. With her grappling background she made a name for herself in the independent circuit as a top notch technician, submission and reversal specialist alongside her sister Osira Themis.

Thanks to social media, her charisma, and her physical appeal, Atara built a fan base outside of wrestling. Dubbed Aphrodite Incarnate, Atara draws from her Greek heritage and American's love affair with the taboo in her character. Signing with XWF, she hopes to make a name for herself as legendary as the Gods of her birthplace.

In the months since debuting with XWF Atara as seen extreme highs and extreme lows with the company. The peak of her early success was a Xtreme title reign. Her superstardom despite in ring progress, as continued to rise and she has branched in into TV. It should be mentioned that along with professional wrestling Atara also as a budding MMA career.

Nearing a year with XWF, and little progress, Atara ultimately decided to part ways and as branched out to the GCWA.



Past Awards & Achievements
XWF RP of the Month - Feb 2020
Hey Noah, I Smashed Your Dad

4x XWF Star of the Month Nominee[/white]

Cross Promotional Events
The Triad Challenge



Global Combat Championship
2 - 1
GCC Roster Page

Television/Film
Kenzi's World - One Episode

Series Finales


Not Yet Aired

Part 2 - Wonder Woman
Publications
CTN Insider Magazine - March 2020


What Makes Atara Themis Click - Interview for GCC

CTN Insider - April 2020




URL to Previous Bio Page
XWF Bio
GCC Bio